The snowdrops are out so it must be Spring! Time to plan for the year ahead and to share some of the work that has kept me busy for the last year too. Although I've been hardly anywhere myself, the transformation of our lives online has brought me in direct contact with people and places in all the continents of the globe. I've been to conferences and lectures, attended performances and films and followed artists' lives via my little 14"screen in my small study – the virtual world is a life saver!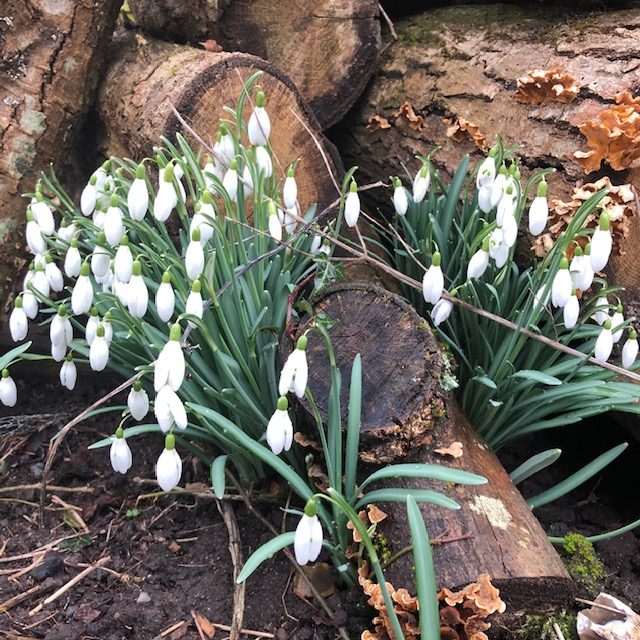 Snowdrops in the log pile March 2021
It is also inspiration for the Newsletter I edit every 3 months for the group of 60 or so glass artists in the UK, who are members of JustGlass. I've also been the very happy purchaser of numerous artworks via #artistssupportpledge. After a year in which I've completed a tapestry started in Crete in 1981, learned raku and got back into ceramics, it was time to do some glass! Beginning with my old love of painting and stained glass I'm making some sampler panels to submit for the BSMGP 30cm2 online exhibition. This year it is their 100th anniversary and I've been a member since 1997. I've not finished these yet as the entry deadline is not until 31 March but here is the first made using the glass samples painted on my course with Jonathan Cooke a couple of years ago in Swansea.
In 2021 the first exhibition I'm taking part in is the Contemporary Glass Society's   A Postcard From…   the idea for the exhibitions comes from Alan J Poole – who amongst many other things is the editor of a monthly newsletter that keeps glass artists connected with what's going on worldwide. Far more efficient than social media – just scroll through the document – then you can go and search for what you find online!  I have been making glass postcards for quite a few years using home produced decals and glass painting recreating the sepia cards of the Victorian times.  For this exhibition, however, I decided to make a postcard that reminded me of staying in a B&B by the seaside.  The only time I ever eat a 'full English' breakfast is in a bed and breakfast guest house, which has to be worked off by a long walk by the sea. If you are lucky the tide is out and has left all those little ridges that squidge under your toes and after I've played duck drake lardy cake a few times with varying success (skimming flat stones on the surface of the sea) I start to slip one or two pebbles into my pocket as a memento of the day.  After many decades when I can no longer remember where they've come from the pebbles are distributed around my garden to confuse future geologists or for others to find as keepsakes (note that I don't take them from beaches where it says not to).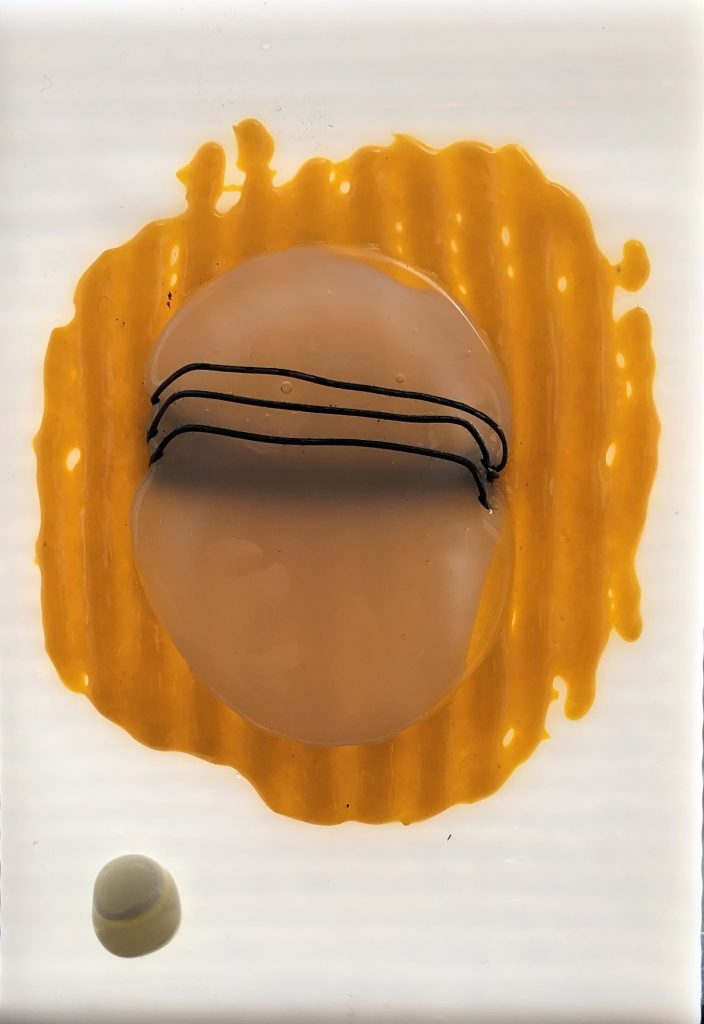 My Postcard is called 'No Eggsplanation Needed' (with thanks to my 1970s Kevin Ayers album for the inspiration). Over to you to continue making up puns…
Glass Postcard – fused slumped glass with inclusions 10 x 15cm (this and the other Postcards in the exhibition are for sale on the CGS website.
In the last week of June – 21st to the 27th  2021 I'm pleased to be taking part in Bucks Art Weeks again. I've missed it for the last 2 years but have otherwise been a part of this annual event since 2004 in various locations and with different artists.   When I booked it I fully expected it to be online but serendipity falls on my side. It will be great to showcase my work and talk about it with some visitors as well as showing it online.  My focus this year is on exhibiting my growing portfolio of work that memorialises memories and emotions associated with particular events, objects and people.   There are some examples in my previous blogs.  Each small 'Memory Block' sculpture is made with a rusty nail kiln fired into a textured block of clear Dartington glass. Affixed to the nail, with copper wire, is a memento which has some significance – the first bubble I made in glass blowing, a gifted ceramic object from a friend and so on.  2020 has been a tumultuous year and there are several Memory Blocks remembering events including the 'Black Lives Matter' movement.  There are many stories to tell, not all personal to me, and once told they are contained within these signifiers as mementos and kept as a Memory Block. They aim to keep alive the memory and also celebrate those involved. 
The CGS has announced two more online exhibitions for the year, and Just Glass also have plans.  There is plenty to do and much to plan for but I do hope that many of the global online events will continue in future years.  It will be amazing when we can gather again to meet up but I will treasure for ever the shared experiences with glass artists made possible by CGS's weekly talks, Just Glass bi-monthly chats and the Glass Art Society's conferences and meet ups – the glass community is a wonderful family to be a part of … #buildingastrongerglasscommunity
Instagram and Facebook : JaneVincentGlass
Twitter: AbbeyRiseStudio