9 – 14 April 2019 1pm to 7pm (5pm Sunday)
at Espacio Gallery 159, Bethnal Green Road, London E2 7DG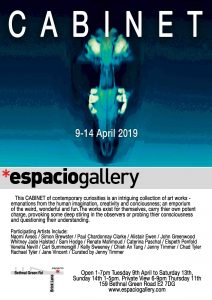 A collection of contemporary curiosities, an intriguing assemblage of art works – emanations from the human imagination creativity and wit: an emporium of the weird wonderful and fun. The works exist for themselves, carrying their own potent charge, provoking some deep stirring in the observers or probing their consciousness and questioning their understanding.
I'm excited to be taking part in this exhibition curated by Jenny Timmer who has invited twenty artists to show their work alongside her own in this CABINET of contemporary curiosities.
My own contribution is sixteen CANARY BIRDS made from found materials and wire. I've been making these little birds for a while; they are caricatures and a playful commentary on contemporary society, satirising and memorialising everyday life. The Canary Birds roosting at CABINET are mostly made from materials found on the footpaths at Wood Wharf, in Canary Wharf, where I spent a happy three weeks last Summer on an Artists Residency. In Canary Wharf luxury dwellings are built on top or alongside historical communities but the birds that inhabit the site stay true to their roosts, whilst others who fly in for a visit stand apart as flaneurs.
The idiosyncratic labelling for these little birds tells their story. … all for sale, except the occasional favourite not ready to fledge, and new birds are always arriving such as the Dorado Birds from Spain, and more Canary Birds – this time yellow ones.
                                      CABINET CANARY BIRDS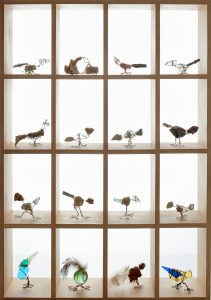 The Blue and Yellow Flaneur: Bold and hurried, BYF dashes back & forth. He skims the Wharf, strolling at fast pace between Banks.  The Frogmore Flaneur: FF wishes it were a swan – made from wood, swan feather & acorn from Frogmore House, Windsor, this poor relation has flown in for a visit, but is usually found wandering around the Mausoleum of Queen Victoria and Prince Albert speculating on the arrival of the new Sussexes. Worn down by age, FF will fade and crumble to dust (NFS).  The Effete Flaneur: Puffed up with head in the sand EF has absolutely no interest in anyone but himself, over indulging and strolling the posh shops of the Wharf. Too much largess to fly. The Aristocrat Flaneur: Aloof and strutting his stuff with his ample beak in the air AF is like a chameleon, changing hue for the company, a fair-weather friend but with a faded beauty.
Canary Bird Blue: A little blue wing and a crumpled tail CBB has been in the wars but still stands proud.
Canary Bird Ice: Hunched and chilled CBI emulates a flamingo except for the pink.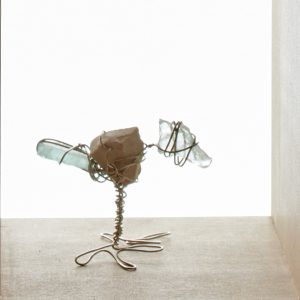 Canary Bird Metal: Frail and bent in body CBM is, like his tail, straight as a die.
Canary Bird Panic: CBP is constantly worried and scared by all rushing around without looking.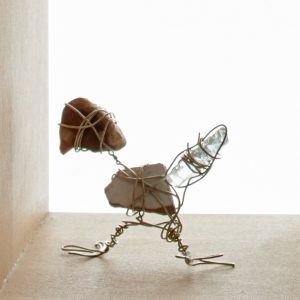 Canary Bird Grey: Solid, hard and steely CBG keeps his eye on all around his ample girth.
Canary Bird Foul: CBF is the brother of CBC and part of the Guinea Foul gang.
Canary Bird Either End: CBEE is in camouflage, never letting on which end is which.
Canary Bird Nail: CBN is sharp, quick and hard as nails, if she turns quickly, she can take out a flight of CB's in one move.
Canary Bird Plastic Bert: CBPB is an old punk whose hair is long since gone leaving a flat top and a sparkly tail
Canary Bird 'Nate: CBA has a laminate rear which protects his very short legs
Canary Bird Pteryl: CBP is very tall and languid; she keeps a second leg in a suitcase for emergences
Canary Bird Clear: Elegant and elderly, you can see right through CBC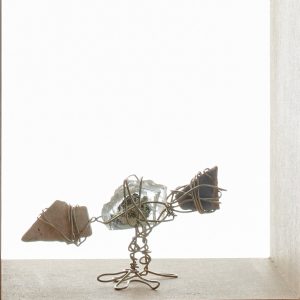 NB – The birds are delicate and should be handled carefully and are not suitable for children of any age.
Follow the birds and other events on Instagram @janevincentglass or Twitter @abbeyrisestudio
All photos taken by Silvain Deleu 
Espacio Gallery
159 Bethnal Green Road, London, E2 7DG
Tel: 07815 319073
info@espaciogallery.com
www.espaciogallery.com
Opening hours: Tuesday-Saturday 1-7pm, Sunday 1-5pm
Closed on Monday
Tube: Liverpool Street Station, Bethnal Green Station
Overground: Shoreditch High Street
Buses: 8, 388
Coming from East
Get the Central Line to Bethnal Green Tube Station. Walk Bethnal Green road to the nearest bus stop. Get the bus 8 or 388 towards Liverpool Street. Get off at Brick Lane bus stop and you're there.
Coming from West
Get to Liverpool Street Tube Station. Leave the station towards Bishops Gate exit. Get the bus number 8 or 388 towards Shoreditch High Street. Get off at Brick Lane bus stop. Carry on walking ahead – you're just 2 blocks away.
Coming on the Overground
Get off at Shoreditch High Street Overground Station. Walk Bethnal Green Road towards Brick Lane. The gallery is just a few blocks away from the station – about 5 minutes walk.
Post Script: I collect the materials and make these birds in my thinking time. Here is a summary of my biography so you can see what other directions my work follows.
About Jane Vincent
Jane has been working with glass as her primary artist medium since the early 1980's when she began learning how to make stained glass windows at Battersea Adult Education classes. Discouraged from following a career in stained glass in the 1970s Jane graduated from Leicester University with a degree in Politics and followed an enjoyable career in the mobile telecommunications industry. A lover of all things technological, new and old, Jane was part of the European team that designed and launched GSM mobile phone roaming which now allows you to take your own mobile phone with you wherever you travel; for over 20 years her job took her all over Europe providing a chance to explore art in many cities, something that carried on after she moved into academia in 2003. Awarded a Doctorate in 2011 in sociology from the University of Surrey that explored emotions and mobile phones, Jane worked as a teacher and researcher on numerous international projects specialising in children and older people's use of information and communications technologies, and especially mobile phones. Throughout this time Jane continued to attend adult education classes and studied part time at college and university leading to qualifications in stained glass, fine art and design and the first year of a degree in glass and ceramics. The offer of a scholarship for her PhD intervened but her academic studies have always informed her art and the two intertwine and overlap in serendipitous ways. Jane has exhibited her work every year since 1997 and has delivered commissions for stained glass windows and glass sculptural work.
In 2018 Jane was selected for two artists' residencies: the first in North East Scotland was with North Lands Creative where she participated in a residency 'Seeking Stillness'. In complete contrast the second residency was on a building site in the Canary Wharf Development in London.
Jane's work in glass over the years has been made using many different approaches including glass blowing, leaded and copper foiled stained glass, and fused and kiln formed/cast glass. She also makes objects with found materials, especially metals and glass, that have a secondary meaning such as 28 glass wire birds representing each EU member country made after the Brexit vote. Jane's sculptural work often has a mnemonic meme, and her stained-glass panels, in line with the tradition of this technique, tell a story in pictures, words and pattern, and sometimes incorporate contemporary technologies.