Ex Libris continues until June 29th #ideastore #churchillplace #canarywharf #towerhamlets
The second of my 5 exhibitions this year is in the Idea Store (the Library) in Canary Wharf London.  Last Summer 20 artists joined a residency at Wood Wharf and 12 of us have contributed to this show Ex Libris, developed, project managed and curated by Andrea Coltman who explains the background

'About CWND Artist Residency……There is a distinct difference between an 'Artist-in-Residence', and an 'Artists Residency'. The former is generally one artist who chronicles or compiles a journal of the time spent in the space. Artist Neville Gabie chronicled the transformation of East London in the run-up to the Olympics. "My role is to make what's happening on the park behind the boardings visible to a wider audience that wouldn't have that access," he said "I'm trying to show the many jobs and tasks in hand which would otherwise go unseen." The Artists Residency is a group who research, interact, develop and often respond to the immediate and surrounding space or to commonalities within the group. Following extensive research it is understood that the artist-led CWND Artists Residency was the first of its kind to be held on a construction site in the UK. The only 'Artist Residency' found actually based on a construction site was in New York, USA. The CWND Residency project selects artists through a vigorous application process, based on-site gathering research and resource materials to develop ideas. Selected artists are diverse in their practices, disciplines and backgrounds. This naturally leads to discourse within the peer group of residency artists, in turn giving rise to connections with other's work, that by requirement, directly responds to the site. There is a structure to the residency that encourages and supports the artists in responding to the Canary Wharf Estate through their individual diverse artistic practices. This also often leads to collaborations. The ethos of the residency is to create a supportive environment for creative professionals with an input from construction site staff and external artists visiting to create a wide range of seminars, workshops with a peer led forums. Until now it has been self-funded. Considerations for future developments would be for external sponsorship'.
The theme of the Ex Libris is books and with that in mind I had lots of ideas about things I could make in glass – an open book, a shelf of books, a few pages of a book, a newspaper but in a public unsupervised space displaying accessible glass art presented safety concerns for the IdeaStore. I thus chose to make a mixed media art book using no glass, but some plexiglass, and a small glass panel (displayed in a glass cabinet).
'Dereliction': Inspired by Brexit and the Extinction Rebellion protesters making the headlines, and the global business conducted at Canary Wharf this fold out art book takes a sideways look at the global businesses and city life of London. I like to use mixed media to create works that satirise or memorialise everyday life and this art book reflects the impact of years of neglect of our planet and its communities: as it starts to come home to roost the canary birds (some may be yellow hammers) are shown taking a sardonic view from their roof top perch dropping rose buds past the flailing European Union flag onto the streets below.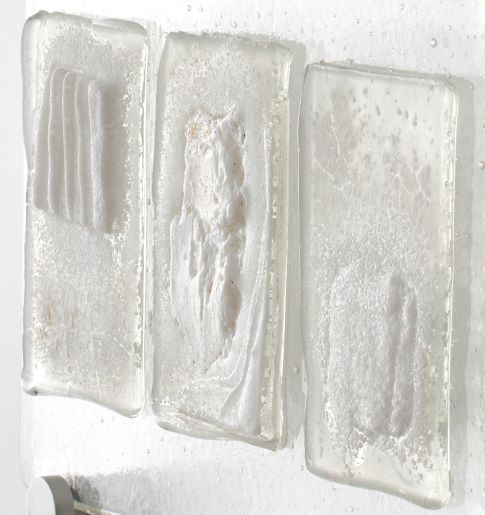 An Artist's Notes in Glass: Thinking back to the Residency and the sketch books we made I realized that mine were mostly of impressions or rubbings of the textures in the surfaces I encountered, especially in the towers including One Park Drive. I was especially interested in the marks that would be hidden forever once the building was clad in glass or internal walls plastered. I tried first to make a mould from these textures with the London clay that had been dug from the site but it was too sticky; instead I used playdough with some fairy liquid smeared on first to stop the concrete sucking out all the moisture from it. All the moulds were made with the same square size. Using lost wax method of glass casting I translated these moulds into glass, each one represents a page in the artist's notebook delivering an accurate impression of marks found in the concrete & building fabric which, now covered by cladding or other building material, are no longer accessible to view.
The other artists showing their work are Linda Saul; Angela Carol Stocker; Morna Hinton; Jenny Timmer; Chaz Howkins; Holly Drewett; Rosalind Barker; Julia Giles; Siǒn Webb ; Pamela Carr; Andrea Coltman – have a look at Instagram @cwnd_artistresidency and @andrea_coltman to see our work.
The Exhibition at the Ideas Store in Canary Wharf finishes on 29 June 2019 – it's open every day until then. You can find us by coming out of the back entrance of Waitrose, turn left go over the footbridge and the Ideas Store (which is a library) is behind Starbucks – Churchill Place, London E14 5RB : Monday – Thursday 9am to 9pm; Friday 9am to 6pm; Saturday 9am to 5pm