This is the Summer of the Glass Nexus Forum & Highland Fling in Quatre Bras, Lybster Scotland, and the Biennale and International Festival of Glass in Stourbridge in England not to mention quite a few exhibitions in the offing. This blog is part one because there'll be so much to tell after we all get back from Caithness and the Midlands.
After last year's successful residency 'Seeking Stillness' at North Lands Creative in Lybster I've been itching to get back to that inspirational part of The United Kingdom and to see if it still holds the same magic a year on without the same wonderful companions to share it with. I'm expecting midges and weather – we had neither last June (save a bit of storm Hector) but apart from that there'll be a cacophony of glassy delights for two days. The programme is on the North Lands Creative Website and I'll be posting about it on Instagram and Facebook – JaneVincentGlass.
The Stourbridge events begin with a series of Master Classes – including Blowpipe Chemistry at Wolverhampton Art College with Dr Jane Cook, Chief Scientist at Corning Museum of Glass ably assisted by Simon Eccles and Elliot Walker. I think we are in for an exciting, experimental and potentially explosive four days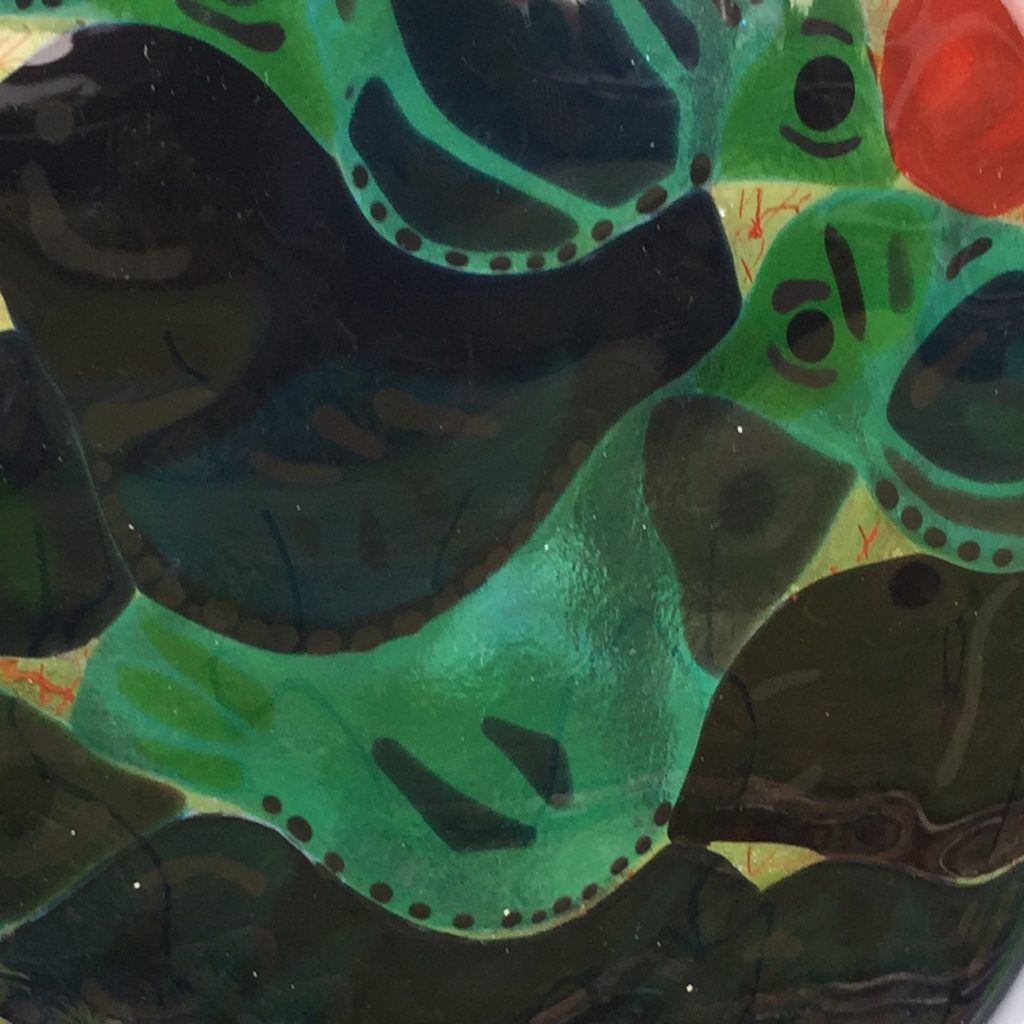 Meanwhile five of the Askett Studio Artists, including myself, have joined together to show some fused glass garden sculptures in our exhibition 'Round and Round the Garden' at the Ruskin Glass Centre courtyard and gardens. This is the hub of the International Festival of Glass and will be bustling with exhibitors, visitors and performing artists. The Biennale begins on the 22nd and runs until 28th September and is a spectacular show of contemporary glass by UK artists and beyond. Running concurrently with the Biennale is the Contemporary Glass Society's 'Celestial Bodies' exhibition. 126 representations of that theme playing homage to memories of the first landing on the moon and other extra-terrestrial events will be a sight to behold. My own contribution is 'Deep Space', although it had many names during the making attributable to Star Trek or Pink Floyd which I thought might infringe copyright if used for the final title.
The International Festival of Glass, and our 'Round and Round the Garden' exhibition is on from 23 – 26 August at The Ruskin Glass Centre & Glasshouse Arts Centre, Wollaston Rd, Amblecote, Stourbridge DY8 4HF.
Hot on the heels of all that activity is my third exhibition this Summer 'In Reading Gaol by Reading Town' an exhibition of artworks inspired by Oscar Wilde's Ballad of Reading Gaol written following his incarceration in that prison from 1895 – 1897. My work, 'He has fallen and cannot rise', is inspired by the profound effects of the injustices wrought by time spent behind bars. Hanging from a central beam the work comprises individual pieces of glass cut to the shapes of prison walls and buildings reflecting the restricted views seen from the prison cell; each piece is printed with photographic decals and painted with extracts from the poem. 31 August – 15 September 10 – 6 daily. The Turbine House, Riverside Museum, Blakes Lock, Reading RG1 3EQ, In Reading Gaol by Reading Town curated by Jenny Halstead and Linda Saul.