CONNECTIONS: Glancing backwards, seeing the present, focusing on the future
Anticipation for the conference had been building and it did not disappoint! What a wonderful weekend full to the brim with glass, glass and more glass – huge thanks to the organisers and everyone who attended to make it such an exciting two days.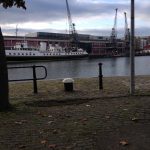 Bristol's M- Shed was our venue and up on the second floor we had a view across to the Cathedral and down onto the activities below. Peter Layton opened the event with memories of the early days of studio glass – a theme to be continued. Peter is a linchpin of the contemporary studio glass movement and he is much respected internationally as well as in the UK, a good mentor for many. Following on from Peter was Colin Reid whose much loved outstanding work is the envy of all and anyone who visited the International Festival of Glass Biennale would have seen him win the people's prize for his stunning sculpture. When he needs space to think he takes himself off on his sailing yacht for a few days of solitary reflection and ironically he missed the second day having to leave early to make the yacht safe from the incoming Ophelia. It is wonderful to have role models like Peter and Colin but we turned to Patricia Van Den Akker for hints on how to become one yourself, how to make the most of the your skills and be a good businessperson – a course is on offer to CGS members in 2018. Also the envy of many present is the skilful precision of Jade Tapson's screen printed discs and in her talk she generously shared her technique. Seen at the Biennale I thought they were an adaptation of cane work similar to the technique used by Scott Benefield but I was completely wrong! Already after just one morning common themes were emerging about sharing vs secrecy, legacies and new techniques for the future.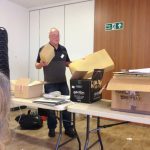 I attended the seminars after lunch: watching David Reekie show us how to pack our work was very therapeutic and quite a performance – lots of thick foam, 4mm ply, heavy cardboard boxes and duct tape are the ingredients – plus the odd platter by Max Jacquard and a sculpture or two of David's to make it real.
Meanwhile Jacque Pavlosky shared the experiences of our Askett Studio Group to great effect resulting in a number of enquiries to join – it doesn't quite work like that but it's flattering. Susan Purser Hope gave us some great insights from her experiences of working with communities – schools, dementia groups, all sorts of situations. Nothing seemed too much trouble for Susan and I think it would be a lot of fun to be on one of her projects.
The Great Glass Drop got underway a little quicker than even the organisers expected as the boxes containing charity shop tumblers were enthusiastically chucked from the 2nd floor to the entrance hall below.The chuckers tried their best but in the end only a couple broke and there was more excitement surrounding the opening than for the drop.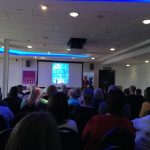 Sunday dawned a sunny day, Bristol was not really awake as we started with Martin Donlin's exhilarating talk about his stained glass, which, to me, has something of Patrick Heron and Marc Chagall in it, and it is just wonderful. His work is on a huge scale and he has grown his skills with the available technologies, ruefully admitting to missing working in lead. Tales of working with hydrofluoric acid at college made us cringe and fear for his longevity but without that careless youth the bravura of his design may well have been lost. We liked that he stays true to the materials of stained glass seeking out makers of antique glass to achieve the desired effects.
Contrasting Martin's excellence in design and technique Andy McConnell shared his expertise of glass, talking particularly about scent bottles – providing masses of illustrations of glass from 50BC to the present day. His irreverent views and encyclopaedic knowledge of his subject was informative and amusing and if you wonder why there do not seem to be many scent bottles about it is because he probably has bought most of them! This brought us neatly onto the topic of collecting and the mysterious world of the Collector. What motivates them to buy the glass, what do they look for, where do they put it all, is there a secondary market? It is wonderful to have enthusiastic collectors like Alan J. Poole, Mark Holford, Mike Barnes and Andy McConnell but it was noted that the UK is very different from the US where glass makers are held in high regard and collecting is a big thing. This does mean the few collectors in the UK have rich pickings from the high quality work produced in the UK but the makers can struggle to find buyers, although it was noted UK glassmakers are not good at marketing themselves…
The last talk of the morning was by Philip Baldwin and Monica Guggisberg – I'd often wondered how they came up with their novel work, what motivated them and how they had managed to still be producing after all these years. A technical hitch at the start of their presentation gave more than a hint to their collaborative problem solving and their images a sense of their free spirit – they are not a couple who are contained or constrained by any boundaries. Life is for living in the present, for having fun and for respecting the hardship of others alongside your own good fortune. We'd have loved to see some images of their work but now we must go and look them up… and we are no nearer to knowing how they make it.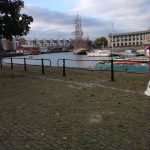 We continued the day at fast pace, not forgetting to spend time talking to the suppliers and buying from them – frames, glass, printing on glass, 3d printing with glass, new colours from bullseye and updates on spectrum and bullseye supply. Northlands the glass centre beyond Inverness was also there telling us about their opportunities.
Time to Share was a random group of CGS members, including me, who talked about their own work or someone else's that was special to them. It was interesting to hear people's stories and I enjoyed Sue Tinkler linking a little piece of glass that had inspired her to begin with her present work tutored by the maker of that first inspiration. We heard how themes of colour and textile design merge and appear in glass form, how new work comes out of adversity and how people step out of their comfort zone to try a new technique and to talk about it. My own contribution was my talisman, the little GAS2002 signet ring in glass cane work that I was awarded for making the winning fishing float in the Scariest to Fish category at the GAS conference installation in Amsterdam. GAS will be in Europe in Murano 2018 – hurrah!
Two more panel sessions in which we were able to ask suppliers and experts all kinds of questions filled us with lots more ideas, gave us solutions but also left us feeling a little depressed about the decline in wages for teaching . Tutors who had been teaching for many years are now earning less than when they started –  new approaches to transferring skills is clearly needed. Key themes from the second day were the important & growing role of suppliers in education now arts and crafts are diminishing in schools and colleges; pushing the limits of what glass can do and pushing at boundaries to achieve more by working out of your comfort zone such as working on a huge scale.
What is the next big thing in glass? Difficult to tell but certainly accessible projects for hobbyists, schools & communities are beginning to grow interest in the medium. Greater inclusion and diversity in the industry is needed – class appears less of an issue, more so ethnicity – something to think about as we were bar one an exclusively white western audience, although online exhibitions are more inclusive so maybe accessibility is the issue.
Overall it was a great two days – everyone was happy to talk, share their experiences, and wanted to learn more and we came back buzzing.
Now to the studio to document it all and get the ideas into the note books before time dilutes them.
And finally let us not forget the history of the Wharf where the M-Shed is located