10 am – 5pm  Tues to Sundays 7 December 2017 to 21 January 2018 at the Stables Gallery, Orleans House Gallery, Riverside, Twickenham TW1 3DJ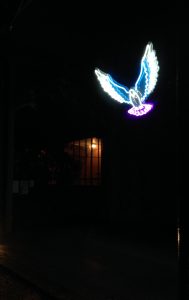 It's a busy time of year – lots of opportunity to fill yourself to the brim with Christmas Fayre of all kinds. I headed off to Waddesdon Manor at the end of November (!) for their Christmas market and enjoyed chatting with Hazel Williams (hazelwilliams.net) about her laser cut designs in wood and perspex and then to Tony Davis (myvisibleobject.co.uk) about his laser cut metal sculptures – I've combined some from both into a Christmas mobile. Suzanne Raffellini had her lovely fused glass on show and all in all, what with a Christmas lunch in the restaurant, a tour of the  decorated rooms in the House and then the truly spectacular light show at the end and I was ready for the festive month.
December really is a big month for me – my latest contribution to academic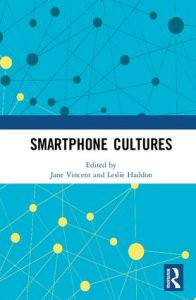 knowledge was published – jointly edited with Leslie Haddon. Our edited volume 'Smartphone Cultures' is all about the ways in which this mobile technology and its apps have been produced, represented, regulated and incorporated into everyday life – you can 'look inside' the book on Amazon…
My work on smartphones and technologies and what people do with them often inspires my work, not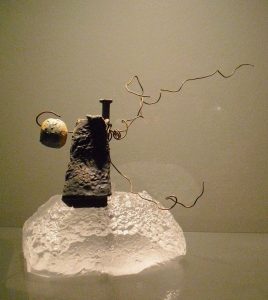 least this little sculpture 'Marconi'. Back in 2009 I gave a guest lecture at Falmouth University for the Porthcurno Museum, famous for its connection with Marconi and his early experiments; later I found out that Marconi had lived in Cookham, Berkshire where, using a frying pan as part of his kit, he had tried out radio wave transmissions across the Thames to Hedsor. Now I have no idea how he did it, he was housesitting for his Uncle who was in jail, and of course left the UK under a cloud of insider trading and other accusations. Nevertheless, we cannot avoid the important role he played in the advancement of telephones and mobile phones and this little sculpture 22x13x13cm represents the memories of Marconi, the frying pan, the transmission insulators, the dark cloak of mystery that surrounds him and the radio waves that carried the messages. 'Marconi' is one of 4 small kiln formed and glass/wire & nail sculptures that I am showing in the Just Glass exhibition:
Liquid to Solid – The Mutability of Glass.
10 am – 5pm Tues to Sunday
from 7 December 2017 to 21 January 2018
the Stables Gallery, Orleans House Gallery,
Riverside, Twickenham,TW1 3DJ
@Orleanshg FB OrleansHouseGallery 020 8831 6000
The Private View on the evening of the 7th December (6-8pm) combines with the Varsity Match nearby so it might be a scrum in more ways than one! All the work is for sale but as an exhibition alone it is worth a visit. Bring a flask as the Stables Café is not open although there are nearby cafes and restaurants in Twickenham and Richmond.
I'm really thrilled to be joining the Just Glass exhibiting artists and look forward to future exhibitions just-glass.co.uk
Memory Block II: Second Blowing  & Memory Block III: Happy Fish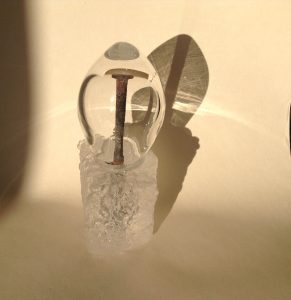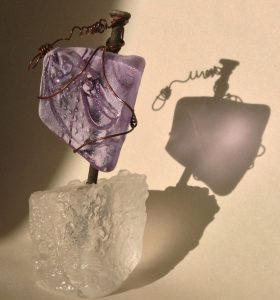 Meanwhile my kiln has been hot this month as a group of ladies from the girl guiding Trefoil Guild came 'round to my house for a craft evening – usually we sew or glue Christmas decorations but instead we made them from glass – and a coaster each too.
2018 brings not only the continuation of the Just Glass exhibition but also planning for Bucks Art Weeks (9-25 June 2018); the Glass Art Society in Murano in May, British Society of Master Glass Painters and Contemporary Glass Society events, and more exhibitions so who knows what inspiration will flow from all that excitement!
'I ♥ you'
And finally – if you can't make it to the Stables Gallery here is my Artist's Statement for the work on show – any questions (and it is all for sale)
Email janevincentglass@abbeyrisestudio.co.uk
The nail in glass series of 28 pieces is about memory and is inspired by the Nkisi of the Kongo – a wooden block into which nails are driven each symbolic of a ritual action involving health, wealth, good fortune and other (some more sinister) matters. In my pieces the nail is permanently fired into the glass and the memory trigger is attached to the nail. They are intended to be triggers for emotions too; memories are complex and a simple object can invoke a chain of recollections and emotions. Some are glass, such as the blown vessel I made in a glass blowing evening classes or, in the case of the Marconi piece, ceramic objects I and a college friend made plus wire from a telecoms cable. The wire heart is instead of a nail and coiling it into the glass conveys the fragility and stability of loving relationships – a nail didn't seem quite right when it comes to love.
(All images and content ©janevincent)