This Summer I took a step into the unknown and joined two separate and completely different artist' residencies in the UK. For the first I headed North, 647miles to be precise, to Caithness and the wonderful North Lands Creative at Lybster – the centre for glass excellence in Scotland and a leading contender for the best in the west. Ask a glass artist if they've been to North Lands and you'll get either a wistful 'I wish…' or an eager 'I want to go back'.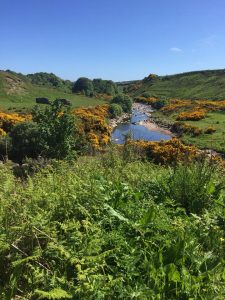 The residency I joined enabled 9 artists to work under the leadership of Steve Klein and Richard Parrish exploring the theme 'Seeking Stillness'. What was lovely about the time together was the quiet mutual respect between the artists, allowing space to be ourselves and to explore and push the boundaries of our comfort zones. Round table chats started the day keeping us focused on the theme whilst learning from each other. Field trips in the minibus, food and more food – building up our appetite with fresh air and the walk down and up the Whaligoe Steps for one of Karen's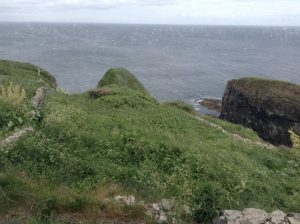 wonderful meals. Our visit to Latheronwheel for The Byre Project 'Permeable Structures' exhibition with exquisite work by Silvia Levenson, Emily Nachison, Michael Rogers and Karlyn Sutherland was very precious and special. Each day we presented a photo from the day before, such as these, that responded to our seeking stillness.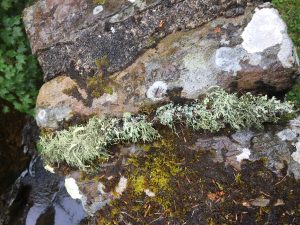 It was a time to explore oneself, find new personal directions in art and life and it was a privilege to be with Steve, Richard, Leslie, Lisa, Janet, Shelagh, Diane, Geoffrey, Miri, Pamela, and Murray for those 10 days.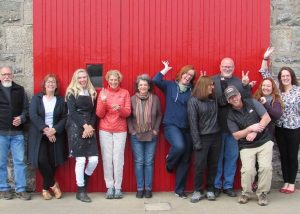 I came home brimming with ideas and a bag full of test pieces and kiln experiments and, thanks to Michael Boulton, some with glass painting. Later on, in the Autumn, at the Just Glass Seminar 'Cut and Paste' Amanda Simmonds told of how, 8 years on, she is still making new work from her time at Northlands with Steve and Richard – I certainly have enough to keep me inspired for many years to come.
Following my return from the remote and relative coolness of Caithness I began, in late July, a three-week residency in Wood Wharf building site Canary Wharf. In the heart of London's business district built on the former docklands this new site is developing housing, offices, a primary school and more local amenities. After passing a compulsory online Health and Safety exam I arrived on site with 19 other artists where we donned our PPE – safety wellingtons, hat, goggles, fluorescent waistcoats and gloves and headed for the 37th floor by way of the builders' lift that trundled up the outside of the tower.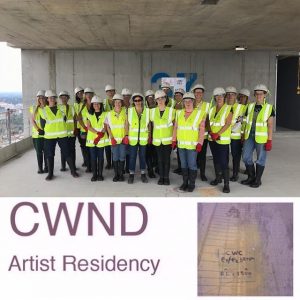 The adjacent circular tower will have 58 floors – about 27 had been built so we were able to look down on it. In contrast with my stay in Lybster where I could fall out of bed and be in the studio in 5 minutes, I had a daily 2hour commute to Canary Wharf which in 91F and no aircon on the Jubilee Line made for uncomfortable travel but it became part of the residency as I travelled among the smart suited city folk in my artist's clobber. Our onsite workroom was windowless and in the basement 86 stairs down (at least not the 365 of Whaligoe) – but it was airconditioned – bliss! The CWND artist residency was a total contrast to Northlands. I was the only glass artist joining fine artists, sculptors, portrait painters, installation, sound and video artists, and ceramicists. Artists at different stages of their careers, some fresh from Wimbledon Art College and The Courthauld others studying at CAS or striking out in new directions. We had no studio facilities and no materials (apart from our own recording equipment and basic drawing materials) could be brought on site.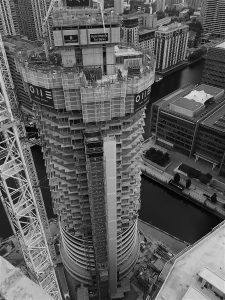 It was quite liberating. I met with the project manager responsible for cladding the towers – this included the glass, I walked about the site within the 'blue zone' and watched others at work, toured around the site on a boat and walked about the business district. Using found materials from site I experimented with reflection, squares in construction, and made some wire birds with stones, broken ceramic and glass found in the crushed rubble used on the paths.
Thanks to Andrea Coltman who organised the residency with the Canary Wharf Development Corporation – this was her third year – we also had a series of workshops and lectures from artists, as well as a tour of the outside art with the Canary Wharf Estate Curator. An exhibition of Glass was on show in one of the buildings although it was disappointingly presented in smeared plexiglass boxes or in poorly lit areas – a bit of a contrast to when I'd see the same glass in other venues such as Messums, or the Biennale in Stourbridge.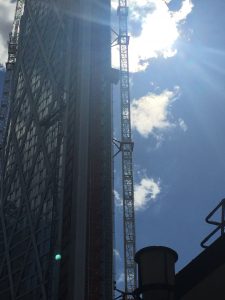 Any talk of Summer 2018 cannot pass without mention of the weather as it was hot, hot, hot for weeks. People said we had not   experienced such heat and drought since 1976; I remember that Summer particularly well as the weather broke with great ferocity when I was on a campsite in Wales such that we had to  shelter in a marquee from lightning strikes and rain. No such respite for 2018 although a couple of days of rain and overcast skies in Lybster were much appreciated to see a change in colours of the landscape which until then had been constantly bright in sun and cloudless skies. In London it was just hot but it's breezy in the Docklands so we avoided the close humidity of the home counties. Now, writing this in early November, I'm wrapped in the warmth of one of Patti Nieman's woollen scarves bought from her lovely workshop in Berriedale and Summer seems an age away. Now it's time to plan for exhibitions of the work from the residencies and CWND will meet up in a couple of weeks to do just that.
The Summer of Residencies will be a hard act to follow but next year there are some important exhibitions coming up. There is the wonderful Biennale & International Festival of Glass in Stourbridge to look forward to, and the lovely team from the Contemporary Glass Society are continuing their Glorious Glass exhibitions as well as another at the IFG; London Glass Blowing are hosting an exhibition and there are more opportunities– all of which I'll try for with my new work inspired by this year's activities, about which more in the next blog
More information about Northlands Creative Glass and the CWND residencies can be found in Instagram and Twitter