It's that time of year when Artists and Crafts People all over the UK have a mass show and tell. In Buckinghamshire we have Bucks Open Studios running from the 10 to 25 June and this year I am showing and demonstrating my work with nine members of the Askett Studio Artists Group. 10-6 Weds – Sun (closed Mon & Tues) Askett House, HP27 9LT.  Find us on the website bucksopenstudios.org.uk .
We are a group of mostly glass artists who come together in different collectives to exhibit our work, invite experts to teach us Master classes or just to meet up at the studio to get on with our work, share ideas and enjoy ourselves in the process. I'm exhibiting at three more events this year. The first is the Waddesdon Manor Feast Weekend 17 – 18 June. Askett Studio artists have each made glass roundels displayed on ironwork stands for outdoor sculptures and a selection will be on show near the amphitheatre.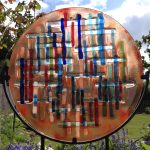 I'll be keeping my Facebook page 'janevincentglass' up to date with photos from all the events so if you can't attend in person do have a look, or follow my Twitter @abbeyrisestudio
Our next exhibition is 'In a New Light' at the International Festival of Glass in Stourbridge 25 – 28 August 10am – 5pm ifg.org.uk. This will be the premier of our new collection inspired by Waddesdon Manor, the National Trust/Rothschild Foundation  Chateau in Buckinghamshire. I will be exhibiting three leaded stained glass panels and a small installation piece.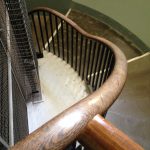 Two leaded panels in clear textured glass form a diptych 'Below Stairs I and II'. They are designed from the shapes and patterns of two of the seven servants' staircases in the Manor House. Used only for house parties there were very few permanent household staff employed at Waddesdon Manor, with most employees maintaining the grounds. Kitchen and household staff came with the guests from their London homes and the servants' staircases enabled them to carry out their duties without interrupting guests.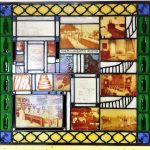 The third stained glass panel 'Below Stairs: The Meal' celebrates the staff and their roles during the visit of the Shah of Persia on 10 July 1896. It is a collaborative project with Marilia Carvalho who shared in the final execution of the panel, in particular applying her expert skills in leading the panel, which is 90cm square.  Designed to fit into the hatch opening in the dresser that covers an entire wall in the kitchen (now the Restaurant) the panel contains archive images of kitchen staff, Manor rooms and grounds as well as facsimiles from the Visitors' Book on the day. You may be reading this because you have used the QR code printed and fired onto a glass tile in the panel to provide the link to this website. All the images on the panel are a clue to something at Waddesdon Manor and can be used to explore the Manor House, its grounds and its history.
As you can imagine there was a lot of work involved in making the three leaded panels and in the course of my research at the Rothschild Archives Windmill Hill I discovered all the staff record cards for the 19th and early 20th century. Many of the original staff were born in the mid 19th century and had jobs which no longer exist today. The cards recorded wages, pensions, date of leaving (or death) and reasons for departure. There were periods when the staff were 'let go' and others who went to Australia or left to join the forces in war. In my installation piece 'Memories of Waddeson' I present a selection of glass record cards in a bureau drawer.
Selected information from staff records is reproduced & hand painted on each glass card, on the reverse is a short narrative description of the work of that individual or additional information about them. One record is for an honorarium – a means to pay a wage to the Headmaster of a group of boys who all fled Germany in 1939 and were given refuge in Waddesdon village by the Rothschild family. Memorialising these people in this way provides a permanent record that will last beyond the time when the paper cards have crumbled to dust.
If you are attending the Biennale opening night on the 24th August you can catch first sight of our exhibition as you walk towards the entrance.  Our Private View is on Friday 25 August at 5 – 6.30pm (we open at 10am the same day) . Whilst in Stourbridge we have also been invited to give a Presentation on 26 August 2pm to talk about our working together as artists and I'm pleased to be chairing this as a panel discussion. The artists exhibiting at the IFG are Jane Vincent, Marilia Carvalho, Jacque Pavlosky, Wendy Newhofer, Jackie Banfill, Claudia Phipps, Adele Gowrie, Anne-Marie Lowe, Vital Peeters, Purnima Patel, Jessica Ecott, Julie Light, Kate Galley, Linda Morley, Miranda Diamond, Janie Davies.
You can find out more about 'In a New Light' and the artists exhibiting by looking at the web site  askettglassstudio.com
My final exhibition is with CGS also at the International Festival of Glass. It is the 20th Anniversary Year for CGS and we are contributing to a postcard size exhibition 'Celebrations' My little piece celebrates the c940 members of CGS by using all their initials to illustrate oak leaves drawn on both sides of a medallion plaque.